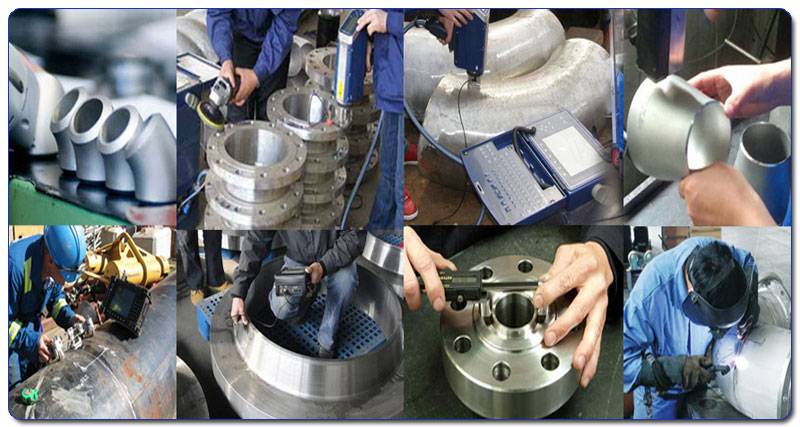 Quality Assurance at Shree Kalpataru Metal Co. starts with understanding the Customers Requirement and continues till the customer is completely satisfied with the delivery of products and services. Quality Control procedures are well defined and thoroughly implemented. Shree Kalpataru Metal Co. is built for result oriented work culture, to fulfill customer's needs in terms of Cost, Quality and Delivery. By enhancing effectiveness of people and plant equipment safely we are aiming towards zero losses. We also believe in continual improvement for effectiveness of Quality Management System through Team Work, Training and Focus on Actions and Results.
Our Excellence:
Quality is our prime aim. We are able to maintain high quality standards through our committed personnel and sound infrastructure. We ensure that finest quality material is used for our products. For ensure the quality of each material, we are providing Materials Test Certificate along with supply. Our teams of experts maintain a vigil on the quality of the products. Every single piece is attached with test certificates and reports. We are continually improving our quality to serve our clients better.
Quality Control:
We exercise stringent quality control measures for ensuring the accurate dimensions and mechanical properties of our products. Our quality assurance system assures each product to pass through following processes and quality systems : 

» Certification and Supplementary Test
» Finishing and Marketing.
» The impeccable quality standards of our product range as well as services have contributed immensely to the success of our company.
» Material Control System
» Machining and Dimensional Control
» Process Control System
Quality Assurance:
The quality assurance system is guided by principles that support our unique working culture which incorporates respect, self management, open communication and creativity.
Service & Quality
Shree Kalpataru Metal Co. Never compromise on quality or service; our skilled team advise on specification, every order carries appropriate documentation and our systems are recognized to ISO 9001:2008.
Third Party Inspection
We offer third party inspection for our products. It could be of client's choice or we arrange the internationally renowned agencies such as Lloyds Register, Bureau Veritas, SGS, etc. The third party inspection agencies services under our scope include:
» BVIS
» TUV
» DNV
» SGS
» ABS
» GLC
» Bax Council

Sourcing Capabilities
Owing to quality conscious approach and customer oriented services, we have created a niche for ourselves in the industry. We import different grades of raw material from the trusted manufacturers and vendors across the globe. This enables us to meet the exact requirements of our clients. Our cordial business relationship with reliable manufacturers has helped us in importing and stocking . All the raw materials are sourced from the renowned manufacturing plants of Japan, Germany, Brazil, USA and other countries.

Warehousing & Packaging
Our modern warehousing unit has sufficient capacity to store the bulk ferrous & non-ferrous metal pipes, tubes, plates, flanges & fittings. We have experienced inventory managers, who keep complete record of incoming and outgoing products. All the products are stored in a segregated manner to avoid any confusion during dispatch.
Prior to the dispatch, all the products are carefully packed to ensure safe delivery. The packages are properly labeled with complete information about the products. Moreover, our logistics department is always updated the special packaging requirements for export consignments.

Quality Assurance Plan
Being an ISO certified company; we are committed to provide quality products at economical price with scheduled consistency to our clients. Our adherence to principles of Total Quality Management (TQM) has helped us in receiving ISO 9001: 2008 certification. With years of industry experience, we have developed quality objectives and work plan for quality management. By reviewing and monitoring all the stages of production processes, we have been to bring a constant development in our product range.
All our products are tested in accordance with internationally accepted standards using various test procedures. Moreover, we provide specific testing as per client's demand. We have appointed a team of quality controllers to maintain highest level of quality in our product range.
Our Manpower
Considering our manpower as the biggest asset, we are empowered with talented manpower who with their professional approach supervises all activities. Committed to meet our client's needs at competitive rates, our experienced personnel are always available to answer any queries about our products. We also possess a team of experts that is engrossed in comprehending the wants of our clients and that in turn help us to remain as a front-runner in this competition.
We also provide effective training to our personnel to keep them well aware about the latest developments in our area of operations. In addition to this, our experienced logistic professional team makes sure that all consignments exported to the described destination reach within the stipulated time frame.


Find Below Our Ready Inventory Of Stainless Steel 317L Products & Stainless Steel 446 Products
Stainless Steel 317L Products
Stainless Steel 446 Products
Our Overseas Sales Office
Contact Shree Kalpataru Metal Co. today for a best offer & competitive quotation..
Call: +09820575528, +91 (022) 66518905 / 66362203
Email: export@shreekalpatarumetal.com